Now more than ever, men's boots have become vital to any stylish and versatile wardrobe look. These boots for men come in different styles, with each one featuring unique features and intended use or purpose. Therefore, every man can have and enjoy the perfect pair of boots for every occasion, whether work, casual wear, or formal events.
But regardless of the type of boots being considered, it's important to settle for a style that fits one's needs and personal style. The boots should fit a certain aesthetic appeal while still maintaining their functionality as well. For instance, a durable boot that offers protection and support will be ideal if you work in construction.
Overall, the availability of different men's boot styles allows for greater choice in footwear, thus catering to the various needs, preferences, and occasions of many men. Here's a guide to some of the most popular men's boot styles today. If you're looking to buy a pair of men's boots to include in your footwear wardrobe, continue reading to learn more.
Chelsea Boots For Men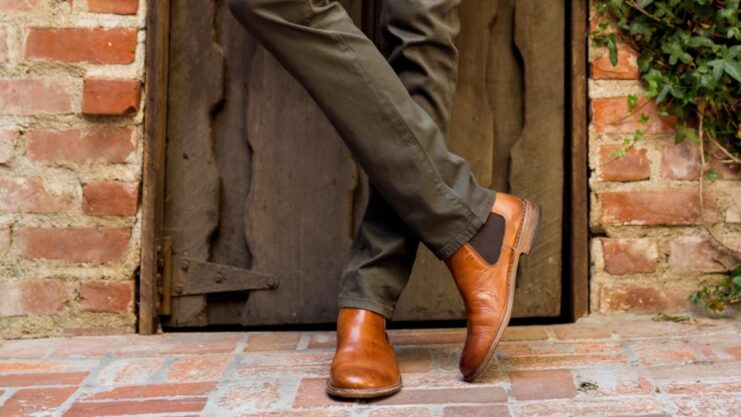 Chelsea boots have been around for a long time, and that's for a good reason. It's because they're known to be sleek and have a streamlined design that allows for easy on and off.
According to rossiboots.com.au and other reliable sources online, a great pair of Chelsea boots for men are commonly made of leather, suede, or both, with leather being a classic option and suede offering a softer and casual look. It's believed that these boots are a popular option for people looking for a snug fit. In addition, their timeless appeal allows this boot to be dressed up or down, depending on the occasion.
But apart from the timeless appeal, Chelsea boots are versatile enough for various outfits. And it helps that they're available in various colors, with black and brown being the most popular. So, if you settle for this type of boots, remember to consider their care and maintenance requirements.
For upkeep, you'll need a leather cleaner and conditioner if the material is made of leather and a suede cleaner and protector for suede boots. To avoid damage to both types of boots materials, refrain from wearing Chelsea boots in wet or snowy conditions outdoors.
A savvy guide to men's boot styles often highlights versatile options like Chelsea boots for men, known for their sleek and timeless design suitable for various occasions. When looking for the best boots for men, considering both style and functionality is key to finding the perfect pair that complements your wardrobe and meets your practical needs.
Hiking Boots For Men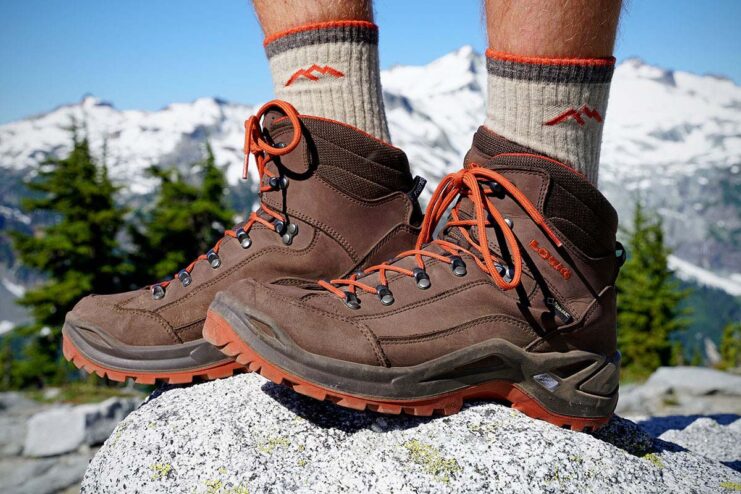 If you want to hit the trails, a reliable pair of hiking boots for men is an important piece of equipment to have in your bag for traveling. The main reason for that is the boots' design which offers support, traction, and protection for your feet.
Keep in mind that hiking boots are intended for the great outdoors thanks to their good arch support and a firm grip on the heel to prevent slipping while hiking. In addition, the outsole of a hiking boot offers traction, making them a popular choice amongst those looking for protection for their soles while they're exploring the great outdoors.
When buying hiking boots, consider the type and settle for a product that's durable and supportive.
For instance, light hiking boots will be ideal if you're going for day hikes on shorter trails. This type is made to offer support for minimal elevation gain. But if you're going on longer hikes with more challenging terrain, mid-weight hiking boots should be your go-to. On the other hand, mountaineering boots are designed for climbing and are the most durable of all three. All these boots are typically made of leather or synthetic materials, with leather offering better support while synthetic is a more breathable material option.
Chukka Boots For Men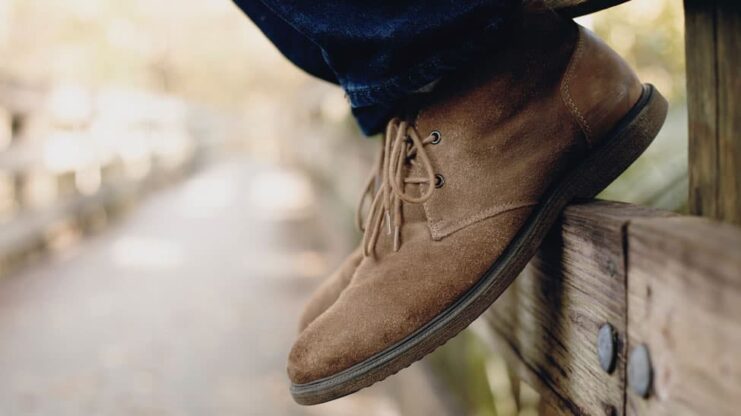 Chukka boots for men are the most classic men's shoe style that's versatile and stylish. Like Chelsea boots, this type of boots for men is commonly made of leather, suede, or both. They also come in different colors, with beige and brown being the most popular choice amongst the general male populace.
The versatility of Chukka boots lets you pair your boots with formal and casual outfit options. You can enjoy boots with soles made of rubber which are more formal and provide both traction and durability. In addition, your chukka boots can look great with a suit or dress pants, depending on the occasion you're going to attend.
Cowboy Boots For Men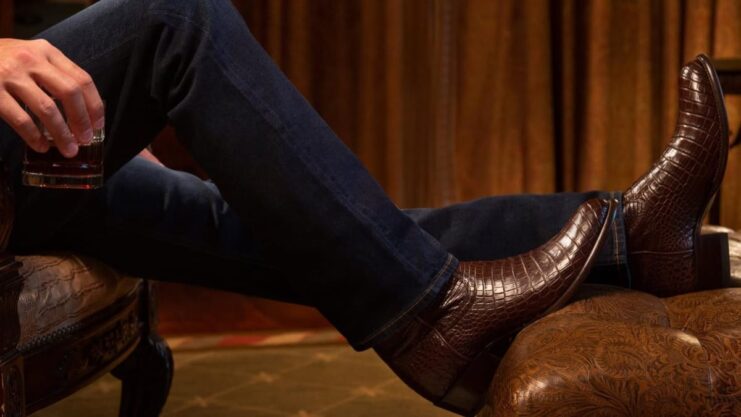 Originally designed for cowboys and ranchers, cowboy boots' style has become a fashion statement. It helps that these boots are made with leather that's durable and looks great with any outfit. In addition, they're available in various styles, which go well with different clothing and occasions.
Therefore, whether you're wearing them on the ranch or to a night out on the town, you can be sure to turn heads and make a statement with a pair of cowboy boots. If you feel extra, you can get a cowboy boot with a long shaft decorated with stitching, embroidery, or inlays. And just like any other leather boots, you'll need a leather cleaner and conditioner to keep the leather of your cowboy boots soft, supple, and clean.
Dress Boots For Men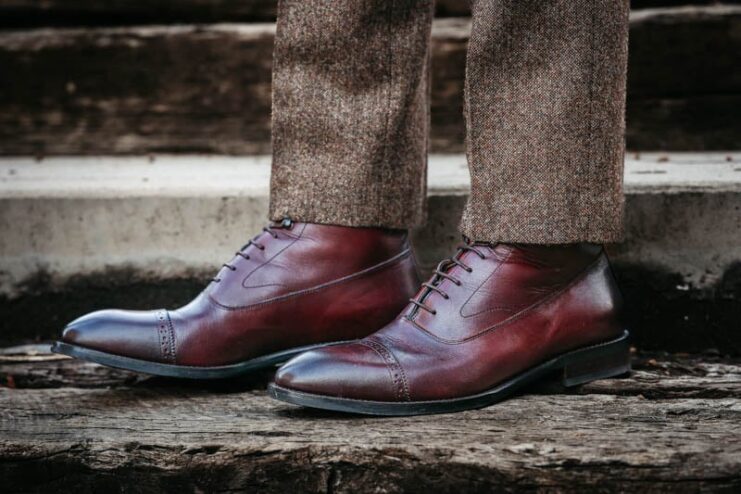 Dress boots for men are designed to be both stylish and to look formal. These boots have a sleek and polished appearance that complements dressier outfits as they're made of high-end leather material. And unlike casual boots, these options are intended to be worn in formal or semi-formal settings and gatherings.
The key to choosing dress boots is settling for styles and color that complements the outfits you already have and the occasions you're going to participate in. Overall, dress boots can be a great alternative to casual boots, so you'll have a touch of sophistication to your everyday wardrobe.
Bottom Line
In conclusion, boots made and designed for men are a versatile footwear option that's available in a wide range of styles, makes, and so on. Yet before choosing a pair of boots for men, consider the boot's material, fit, and style that fits your specific needs and wants. And with the right care and maintenance, men's boots can provide years of reliable use amidst the daily wear and tear brought upon by use.