Jeans are a mainstay in every man's wardrobe. They are one of the most versatile pieces of clothing known to man. Men's jeans are an ideal choice for those who don't want to spend much time thinking about their outfits. They can wear one every day of the week without looking like he's worn the same outfit twice.
Shopping for a pair of jeans used to be easy. They either fit or they didn't. They are either black or blue. Today, however, there are so many different types of men's jeans that some of you may be wondering which one to get.
Rather than just focusing on the style, color or cut, you should also take the fit into consideration. After all, you wouldn't want to waste your hard-earned money on ill-fitting jeans.
The right jeans will allow you to move around with ease and glide onto your body. If you're struggling to find the perfect pair of jeans that fit and suit you well, then this blog post is for you. To ease your future shopping experience, we compiled a list of tips that will help you find the right pants for you.
Here are some tips for choosing the right jeans for your body type.
1. Loose Fit
Loose fit jeans are the roomiest of all jeans, with a fuller leg. It provides plenty of space in the legs, thighs, and butt. This is great for men with an inverted triangle body shape as it adds some heft to the lower part of your body. The leg should be roomy, but not flapping in the wind.
Loose jeans with a wide leg offer a comfortable option, so your jeans don't stretch across your groin. The key to wearing loose fit jeans is to get the right fit. Make sure that your pants hit near your waist, not your hips. Otherwise, you may end up looking like a 90s boy band.
With that much extra material already on show, the last thing you want is to pair it with a baggy top. Not only will it make you look lousy, but it may also make you appear bigger. This is especially true for men who are on the bigger side.
These type of jeans have a very casual fit, so it looks great when paired with a shirt. Make sure, though, that you choose a shirt with a plain, solid color. If print is your thing, opt for those with minimal print. Large prints or patterns will bring attention to your torso and throw your body out of proportion.
2. Relaxed (Classic Fit)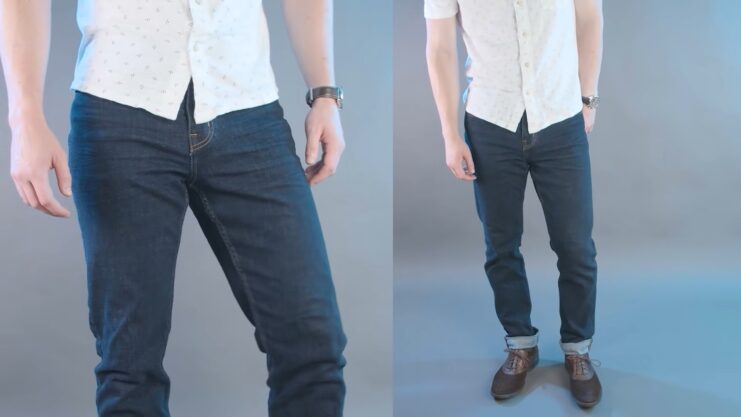 Relaxed men's jeans have a loose fit from the waist to the leg opening. The classic fit jeans work well for almost every body type, but this is especially beneficial for men with a triangular body shape. These men are larger around the waist and hips in relation to the top part of their bodies.
Often, they have a hard time finding clothes that make their body appear proportional. Straight-legged jeans are ideal for this body type because they do not hug any part of your body. Plus, it helps create balance and the illusion of shape. It will take away the attention from the larger waist.
The classic fit is also ideal for muscular men. They have a fairly large leg opening, which is beneficial for them since they usually have bigger legs. Plus, it makes it easier for them to move around.
3. Regular (Straight Leg)
Straight leg jeans maintain an equal width from the hips to the hem. It is ideal for stocky men with muscular bodies. These are the men who frequent the squat rack at the jeans. Often, they have a hard time finding well-fitting pants because of the size of their hams, calves, and quads.
In this case, you may want to turn to straight legs. They are not too tight and not too loose. They are roomy enough without looking baggy, yet fit enough to accentuate your toned body.
Contrary to what most people think, slim or skinny jeans are not recommended for muscular men as they will make them look heavier. Regular fit trousers, on the other hand, will accentuate your toned body without being body-hugging. It will emphasize the best aspects of your build. Remember, well-fitting doesn't always mean tight-fitting.
4. Slim Fit Men's Jeans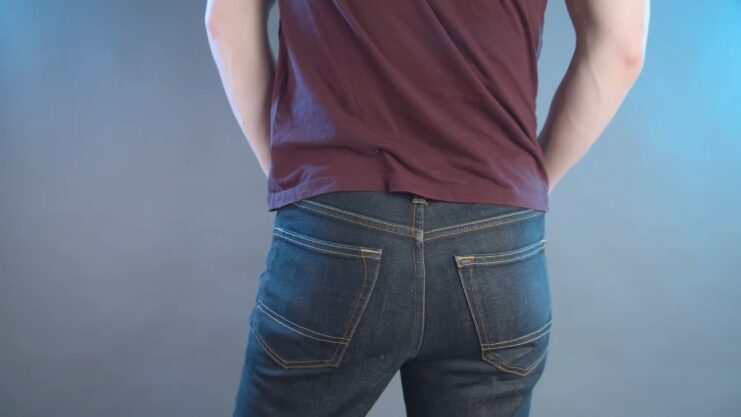 Slim fitting denim is a bit tight-fitting, but not as body-hugging as skinny jeans. For those who prefer slim fit jeans, opt for those that have a slight amount of elasticity to them.
This type of men's jeans is also ideal for slender men – those with small shoulders, flat chest, and light build. Avoid wearing a tight-fitting shirt as it will only make you look thinner. Pair slim fit jeans with an oversized shirt instead to balance out your fit and ensure that your shape is not overly exaggerated.
Slim fit jeans are also ideal for the average American build – those who have defined muscles but are not overly athletic. These are the men who hit the gym occasionally but aren't bulking up. Since their upper and lower body is fairly proportional, wearing pants that are bit tight won't mess up their visual proportions.
5. Skinny Jeans
The skinny fit is the latest addition to the men's jeans family. This is the tightest and snuggest of the jeans style.
Generally, skinny jeans are divided into two categories: standard and spray-on. Since we have already discussed slim fit earlier, we'll focus on spray-on skinny jeans. Spray-on styles have a very narrow ankle opening and are tapered close to the leg all the way down.
Often, they contain a high proportion of stretch elastane, which gives them an element of comfort and ease when wearing them. Because skinny jeans tend to be figure-hugging, they are best reserved for men with well-maintained and well-proportioned bodies. They are great for showing off your figure, making them a great choice for athletic men.
Although people often say that you can't go wrong with denim, there are a few common mistakes men make when styling skinny jeans. The biggest sin is wearing one that doesn't fit you well. Never wear skinny jeans that are too tight around the waist as it can lead to a potential muffin top situation. It won't create the kind of silhouette that's most attractive for men.
Final Words
Hopefully, this article has helped you determine what type of jeans fit your body and style. If you have further questions or would like help finding the perfect pair of jeans for you, be sure to check out our article on men's lifestyle sites!