When men say they need space, some mean it quite literally so and this is where the concept of "man cave" comes in. Men need their own safe space in order for them to have some quality time alone or with their friends.
It's both for personal and entertainment purposes—a place where they could unwind, be themselves, regulate their emotions and thoughts, as well as focus on their interests such as hobbies, games, drinks, movies, and so on.
We have the top 6 most common types of man caves there are bar, game room, entertainment room, workout room, work room, and lounge and library. The thing about these is that man cave décor need not be expensive at all.
So long as you have the allotted space for it, you can come up with different creative ideas on how you can personalize that area to make it your own space—starting with our top suggestions for affordable décor and items that you can buy to make it more legit.
The Bar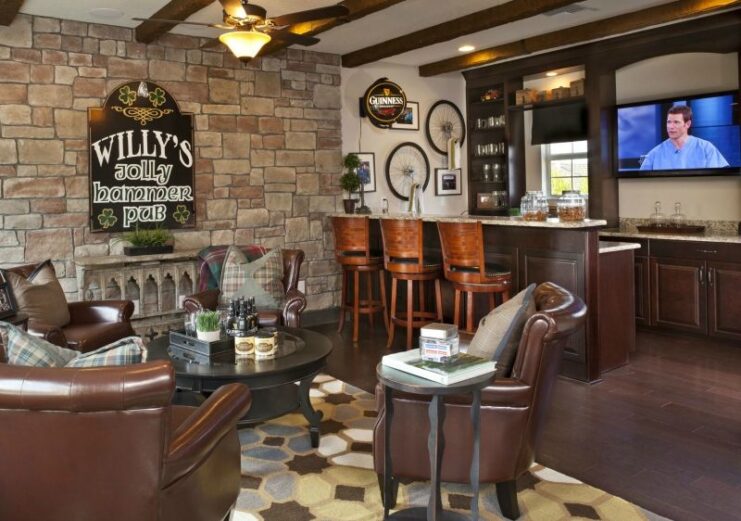 Having a bar room is one of the most common types of man cave there is. For the most part, bars are where men usually hang out and let loose after a long day's work or simply just to chill and relax.
Having a bar room for a man cave or a bar inside a man cave could be a great way for men to relax and unwind while having a sip of their favorite drinks. Click here to check out man cave lighting to add to your bar.
1. Spirited Wisdom Rocks Glasses
Add some scholarly character to your bar using this 4-piece set of 13.5 oz glasses. Each glass features one famous quotes from prominent personalities including Benjamin Franklin, Hunter S. Thompson, Charles Eames, and Picasso.
2. Copper Bar Set
This sleek and dapper-looking bar set is all you need to mix your favorite concoctions. It features a cocktail shaker, double jigger, strainer, and ice tongs. Its copper-plated make could instantly transform your casual bar into a gentleman's lounge.
3. Ultimate Cocktail Mixing Kit
There's nothing more ultimate than this ultimate cocktail mixing kit. From mojito to long island, you can easily mix and drink the night away with cocktail instructional manuals, as well as several necessities in creating and serving different kinds of cocktails.
4. UKEG 64 Oz
This mini keg, which comes in the size of a half-gallon growler, is a great item to have in your bar for those casual nights with beer and lots of fun with your friends. It's made of stainless steel, has a brass handle, and also has a CO2 regulator cap with a customizable tap handle and gauge.
5. Homemade Gin Kit
Want to make your own gin concoction? This homemade gin kit is just what you need for nights that you want to experiment. It comes with two 375ml glass bottles, stainless steel strainer, funnel, as well as 1 tin of juniper berries, and 1 tin of a "secret" botanical blend.
The Game Room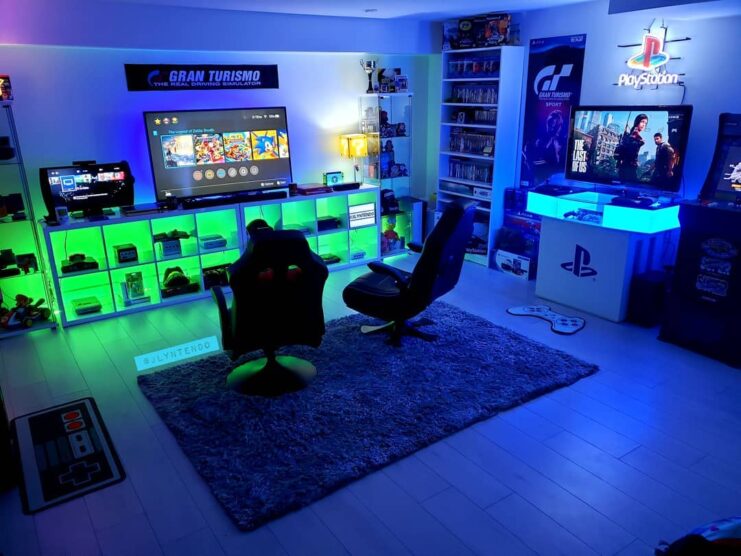 Even when boys grow up to be men, they still want to play around with their kind of grown-up toys from time to time—hence the need for a game room. Game nights are perfect during weekends and days off where you can just gather up your friends for a night of fun, games, and laughter.
1. PPK Rubber Band Gun
Shooting elastic rubber bands never looked this good. You can use this wooden gun to fire up 5 rubber bands and can shoot it up to 20 feet. It's very easy to use and load, and you also get to have 50 bands included.
2. Hathaway Maverick Table Tennis & Pool Table
Who could say no to a convertible table tennis and pool table in one? This table has a 7 ft. playing surface and if you're feeling a game of pool or something more physical like table tennis, you can easily do so with this versatile piece. It also comes with all the accessories you'll need to properly play billiards and table tennis.
3. Cards Against Humanity
If you just want to play a game that's nonsensical and non-strategic but ultimately fun and interesting, then Cards Against Humanity is your game. It comes with 550 cards (460 white cards & 90 black cards) and all there is to it is when a player asks using a black card, everyone else will answer with their funniest white card.
4. Sega Genesis Classic Game Console
Looking for some throwback games that remind you of your childhood? The Sega Genesis Classic Game Console is perfect for grown-up men missing their favorite video games such as Mortal Kombat and 79 other classic games.
5. TG Dart Game Set With 6 Darts & Board
A game of darts is always a perfect way to relax and have fun while having good conversation with your friends. This dart set includes an 18"x1" Paper Wound Dart Boards and 6 17g brass darts. You can play two games in one: classic 20-point darts and target bulls-eye game.
The Entertainment Room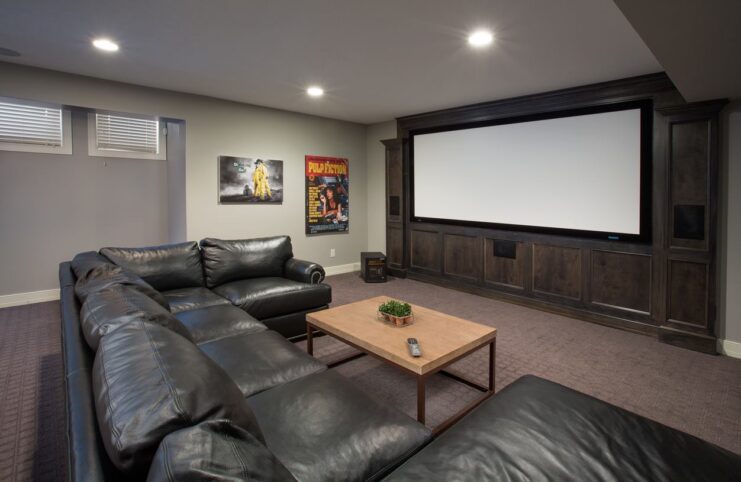 Music, movies, TV series, and whatnot—the entertainment room is another great idea for a man cave where they could just sit back and relax listening to their favorite artists or watching their favorite movies and most anticipated shows.
1. Projector
Instead of buying a wide screen television, having a projector gives more of a cinematic feel and it costs way cheaper as well. It's like a diy movie house inside your house and with this Crenova LED projector, it'll surely feel like one.
You can connect to a laptop, iPad, or even mobile phone in order to watch movies and shows. It can also support up to 1080P HD so you have nothing to worry about the quality of what you're watching.
2. Home Theater System
Having an entertainment room would not be complete without a high quality theater system. This Sony home theater system includes two 50-watt front speakers, two 50-watt surround sound speakers, 50-watt center speaker, and 50-watt subwoofer. You'll surely have the best time listening to your favorite tunes and watching your favorite shows and movies.
3. The Bow Tie Print
Including little décor pieces such as this bow tie print to your man cave can add more charm to the overall vibe of the place. You can hang this on the wall and have a more vintage appeal to your beloved space.
4. Roxant Pulse Strobe Light
Want a little crazy fun within the confines of your own space? Feel like you're in a rave with this pulse strobe light that has 108 bright LED lights, which are also sound activated. You can use this for some wild fun and it can also double as deterrent for pests in your house.
5. Elvis Presley Elvis' Gold Records
Your music collection would not be complete without the presence of the king himself. Featuring Elvis Presley's greatest hits between 1956-57, this Gold Records album is suitable for a chill night with some whiskey on your hand.
6. New Black Keyboard Area Rug
Complete your entertainment/music room with this cool and cheap Keyboard rug that you can place at the entrance. This affordable rug would surely add more character and it's a great way to make your space look more personalized as well. It's machine woven and makes use of olefin yarn with a durable jute backing.
The Workout Room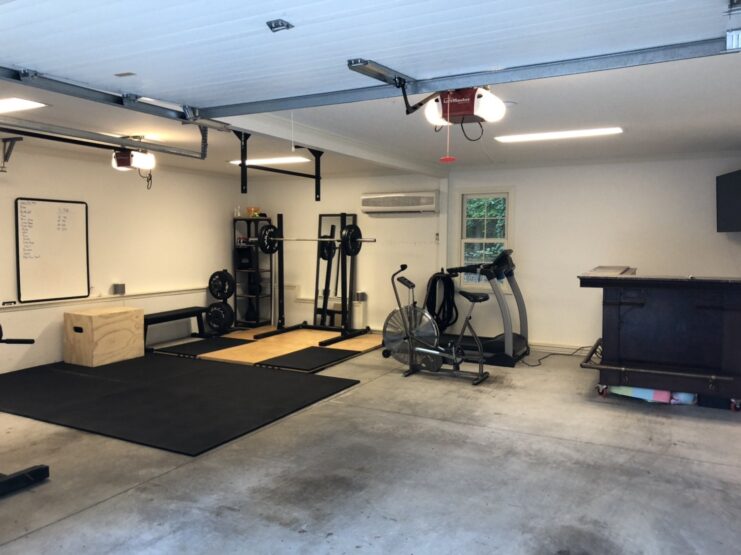 Not a big fan of gyms? Having your own gym at home can already be classified as a man cave. You can have a gym for a man cave or you can also have a DIY gym within your man cave as well.
1. Marcy MWM-990 Home Gym
When it comes to home gyms, you have to look for versatile equipment that you can use. Perfect example is this Marcy home gym, which you can use for different types of body workout such as chest press arms, vertical butterflies, leg curls, as well as lower body, abs, and tricep exercises.
2. Gym Equipment and Cushion for Workouts
Safety first! Make sure that your gym area is covered with these black puzzle exercise mats by ProSource. Not only does this protect your flooring if you have gym equipment, but you can also use this when you do conditioning exercises as well.
3. Heavy Duty Gym Quality Resistance Bands & Pump – Improves Balance
If you're looking to strengthen your core and improve your balance and posture, then you better get this exercise ball from an online store. The great thing about this is that it also comes with high quality resistance bands and a pump. Use it for various core and back exercises and even for yoga, if that's your thing.
4. INSANITY Base Kit – DVD Workout
If you're all about high intensity workouts that will push you to your very limits, then you could take on the Insanity workout with this complete kit. It includes 10 workout DVDs, as well as free gifts such as the Elite Nutrition Plan, Fitness Guide, Insanity Calendar, and Free Online Support Tools.
5. NordicTrack T 6.5 S Treadmill
If you're really focused on completing your gym, then better get a treadmill as high quality as this NordicTrack treadmill. You can digitally adjust the intensity of your workout even up to the point that you can run a marathon, and you can do it right in the comfort of your man cave.
The Work Room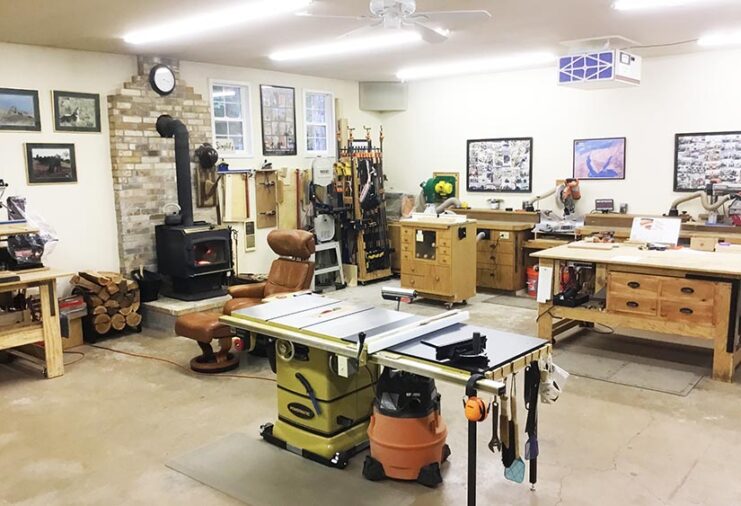 One of men's favorite hobbies is woodworking. There's just something so undeniably therapeutic in hard manual labor and actually building pieces of furniture or what have you using their hands—and some machinery and equipment, of course.
If you have your man cave located at your garage, then you might as well include a spot for your woodworking there as well. interested in keeping your work room warm. Click here to read about an amazing heating unit that will change the way you work.
1. Workbench
Organize all your tools and make sure that your workspace is clutter-free and functioning smoothly with this garage workbench. This heavy duty workbench is made of steel and it's so durable that you can put it through even for the heaviest jobs you can come up with. And with its drawers and bottom shelf, you'll have everything you need well within your reach.
2. Tool Kit
Every man needs a reliable and complete tool box and this 65-piece Homeowner's Tool Kit from Stanley is a great (and very cheap) choice. It contains all the tools you need to complete and finish basic diy projects at home. Such tools include a tape rule, hammer, pliers, screwdriver set, among many other essentials.
3. Single Bevel Compound Miter Saw
If you're really serious about your woodworking project, then you'll need a reliable saw such as this Hitachi Miter Saw. It has a 15-amp motor that can surely accommodate even the toughest cutting jobs. It also comes with miter angle and bevel range for more versatility and efficiency for your cutting jobs.
4. Toolbox Socket Organizer
Organize your socket tools with this ultimate socket organizer. You can easily arrange and organize up to 171 popular socket tools with this board and place it on your tool drawers.
5. Craftsman 9-33300 Professional Tool Set
This 300-piece professional tool set by Craftsman may as well be considered as the holy grail of tools. It has 168 stamped sockets, 19 drive tools, 53 wrenches, 6 screwdrivers, and 54 specialty tools. What more could you ask for in completing your diy work room right?
The Lounge and Library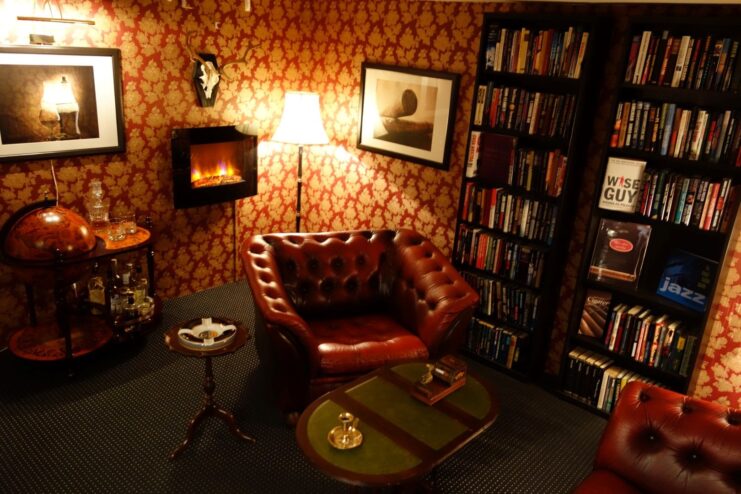 If you're more of the dapper, scholarly, and educated kind of gentleman, then you might prefer transforming your man cave into a sleek lounge and library area with that unmistakable vintage vibe.
You can relax and unwind in piece, while reading your favorite book or listening to some classic songs, all while sipping on scotch on the rocks. Not only that, but you can also use this room as your home office space when you just need some peace and quiet to do all your work right in the comfort of your home.
1. Multimedia Storage Tower
A library area would not be complete without a bookshelf. Not only can you use this as a bookshelf, but you can also place picture frames, DVDs, games, and what have you. It can hold up to 280 DVDs and 426 CDs and all for a very reasonable and cheap price tag. Its dimensions are: 32.4" width x 9.4" depth x 45.4" height. LeisureMod Modern
2. Lounge Chair & Ottoman
If you're looking to invest in a piece of furniture that can last you for many years to come then this lounge chair and ottoman would be a great candidate. It features high quality wool fabric upholstery covering 6-inch urethane foam cushions, which are set on molded plywood and balanced on a five-star, die-cast steel base. A classic choice befitting your classic and timeless style.
3. Bearskin Brown Grizzly Accent Area
Take your lounge room to the next level by adding bold accents such as this faux fur bearskin shaggy rug. It's realistic-looking and it's completely animal friendly as well. You can place it as a focal accent of the room for a more gentleman's club feel.
4. L-Shaped Desk
If you have a more modern and minimalistic take on decorating your lounge room, then an L-shaped desk made of wood and glass may be just what you need to complete and personalize it. This table by Whalen is a perfect work table for when you need to really get things done.
5. Serta Executive Office Chair
Of course, what's a work table without a professional-looking yet comfortable chair, right? This office chair by Serta is fully cushioned and even has a pillow headrest for added support for when you get too tired and stressed out. It's also adjustable and provides proper support for your back and lower extremities.
Conclusion
To sum it up, men do need their own safe space just as women need their own spot for themselves. These man cave ideas are very easy to DIY and it doesn't have to cost much because it's all a matter of knowing how to find and where to get cheap man cave decoration. And if space is a problem, just do it as other have done so—when in doubt, just transform the garage.