Custom pins are everywhere, from sporting events and concerts to a quick stroll down the street! And it's easy to understand why – they give people the opportunity to share something unique about themselves. The list of how to express yourself with custom pins is endless. You can showcase your favorite band, personal ideas, beloved sports teams, and more.
With just a glance at the people around you, you'll see that these pins are growing in popularity. Why are they becoming more popular and how can you choose the right custom pin for you?
First, here's 4 reasons why they're so popular now.
1. Affordable And Easy To Customize
As today's fashion pieces continue to rise in price, it is becoming more and more difficult to express yourself and your individuality. Luckily, pins offer an affordable and user-friendly solution! Everyone can treat themselves to a few of their favorites, allowing them to show off their style.
They are an even better way to express yourself because you have complete control over what they look like and how you want to present the many different aspects of your personality to the world. Most importantly, they are much more affordable than custom clothing, sneakers, and jewelry.
2. Show Off Your Style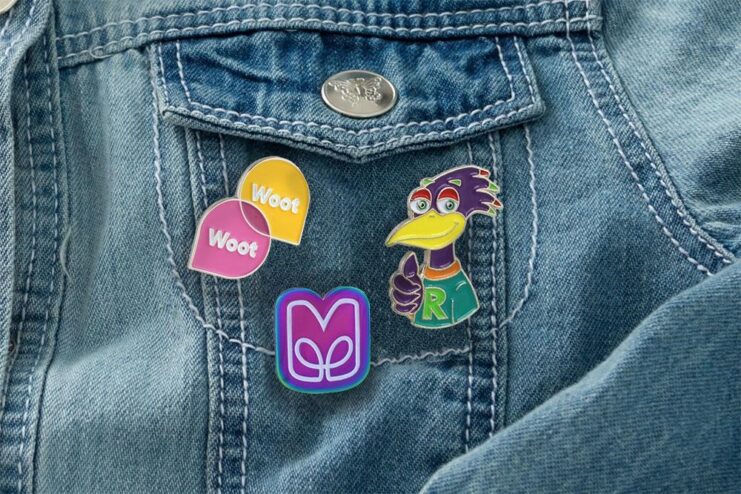 Demonstrating your sense of style and individuality is a great way to show off who you are with your clothing and accessories. So, it should come as no surprise that people like to wear and show off the things that are important to them. Not only does it provide an opportunity to express one's style and identity, but it also acts as a way to spark conversation and share ideas among friends and new acquaintances.
3. Collectability And Nostalgia
Customized pins can quickly become mementos, reminding people of their most meaningful and important moments. For example, sports teams use customized pins to commemorate tournaments and big wins. Schools use them to celebrate memorable moments, and groups can create custom pins to remember special events with family and friends, like bachelorette parties or family reunions.
4. They're Versatile
Customized pins are also becoming more popular because they have many uses beyond making a personal fashion statement. Brands and businesses can use them to increase awareness about their products and services.
Similarly, charities and non-profits can give them away to inform others of their cause. This form of gift-giving also creates new opportunities to connect and ignite meaningful conversations. Ultimately, there is no limit to what you can do – if you can think it, you can create it!
How Can You Choose the Right Custom Pin?
Of course there are many premade pins that you can buy online, whether it's a pin with characters from a movie, videogame, or even a cause (like cancer awareness). Custom pins are also increasingly popular as you can have an artist create a custom design, select the size, and any stylistic features.
One of the best rated pin manufacturers is PinsFast. Their custom pin options are top-notch. Many others require that you come with your own artwork, which can be pricey. PinsFast's artists, though, provide free custom designs. So for customized pins, all you need is your idea to get started.
The Many Different Kinds of Custom Pins
While there is no singular approach to designing custom pins, there are many unique types – allowing you to find one that perfectly matches the needs of your customized pin. Still, many people don't know much about the many different kinds of pins and how they can use them to their advantage.
The most common are soft enamel, hard enamel, printed, and die struck. Of these, soft enamel is what customers purchase probably 80% of the time. We break down the various types below.
Pin Type: Soft Enamel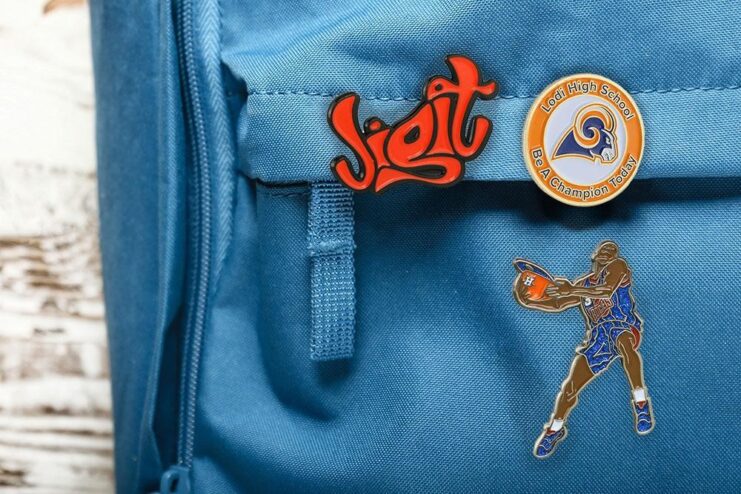 Soft enamel pins are also called embossed pins. These pins are the most popular type, accounting for nearly 90% of customized pins. They have a cool textured and ridged feel that adds an elevated level of design to your pins.
It is easy to see why they are the most commonly used customized pins. Their raised and textured look and feel sets them apart from other types. Custom soft enamels are the way to go if you're dreaming of bold colors. They perfectly complement bright colors and bold creative elements.
Pin Type: Hard Enamel
Also known as imitation Cloisonne pins, hard enamel pins are unique from their soft enamel counterparts. For example, they have a different look and feel. But, more importantly, hard enamel pins are more durable and can withstand a hefty amount of wear and tear.
This quality means you can wear them without worrying too much about scratches and other marks from being knocked around all day. Hard enamel is most popular among those using customized pins for political and corporate events.
Pin Type: Offset Printed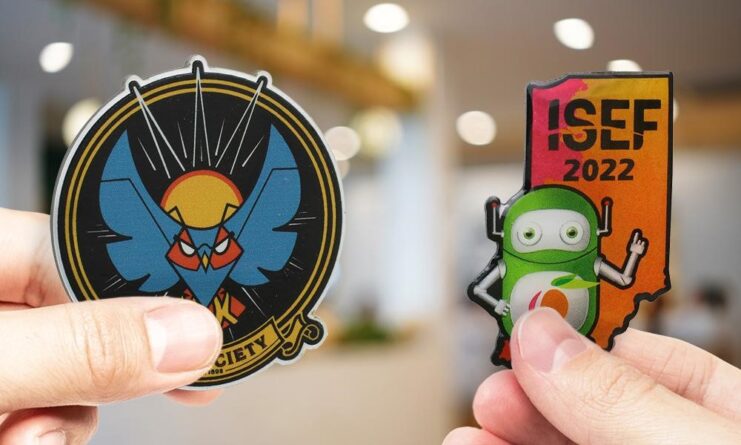 Offset printed pins differ in feel and texture from other types of pins – but that doesn't mean they aren't useful. Fortunately, they still make it easy to show off your style with a bold statement! Offset printed pins are excellent for designs created digitally as they don't distort logos, words, or pictures.
And you don't have to worry about your pins becoming boring or one-dimensional because of less texture. You can still create a multi-dimensional look using color changes, shadows, and gradients. Offset printed pins typically have a very glossy finish, making them perfect for showcasing high-resolution artwork, detailed designs, and sharp imagery. They are also one of the most affordable options.
Pin Type: Die-Struck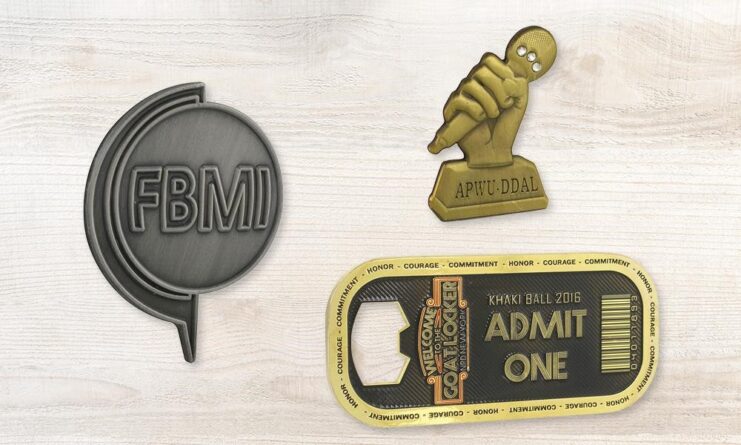 Die-struck pins look and feel similar to coins and antique-style pins, making them the perfect match for keepsakes for important events and organizations. The design, which is raised and recessed, is what makes this pin type so unique. They are perfect for showcasing simple designs and phrases, much like a medal or medallion.
While this type is best used for showcasing texture, you can also add colors to create an even more unique look and feel. All in all, die-struck pins have a more "official" aesthetic than their hard and soft enamel equivalents.